Posted by
Geoff

| Posted in News | Posted on 07-15-2010
1
A recent addition to YouTube has really caught my eye as something you should definitely check out. If you're a reader who doesn't know me, one of the things to know is that I really love Star Wars. As a theatre person, I am also a huge fan of improvisation. There is a group out there that I love watching called Improv Everywhere. You've probably heard of them; they're the ones who got 200 volunteers to freeze for five minutes in Grand Central Station, and sang an impromptu song about produce in the middle of a crowded grocery store. Well, their latest stunt has been one of my favorites. Go ahead and watch it.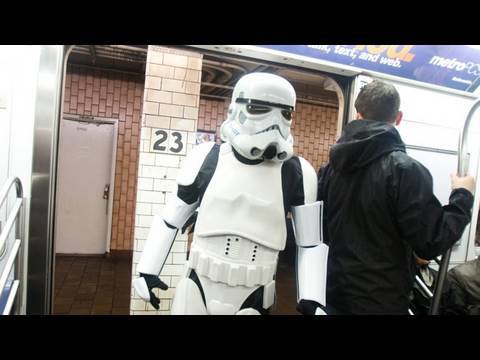 Yeah. Star Wars on a city subway. Awesome.
I'm hoping the next time they reference Star Wars they recreate the Death Star trench run in the aisle of a Walmart by crashing their carts together and spiking a child in the head with a Nerf ball.
Catch you later.